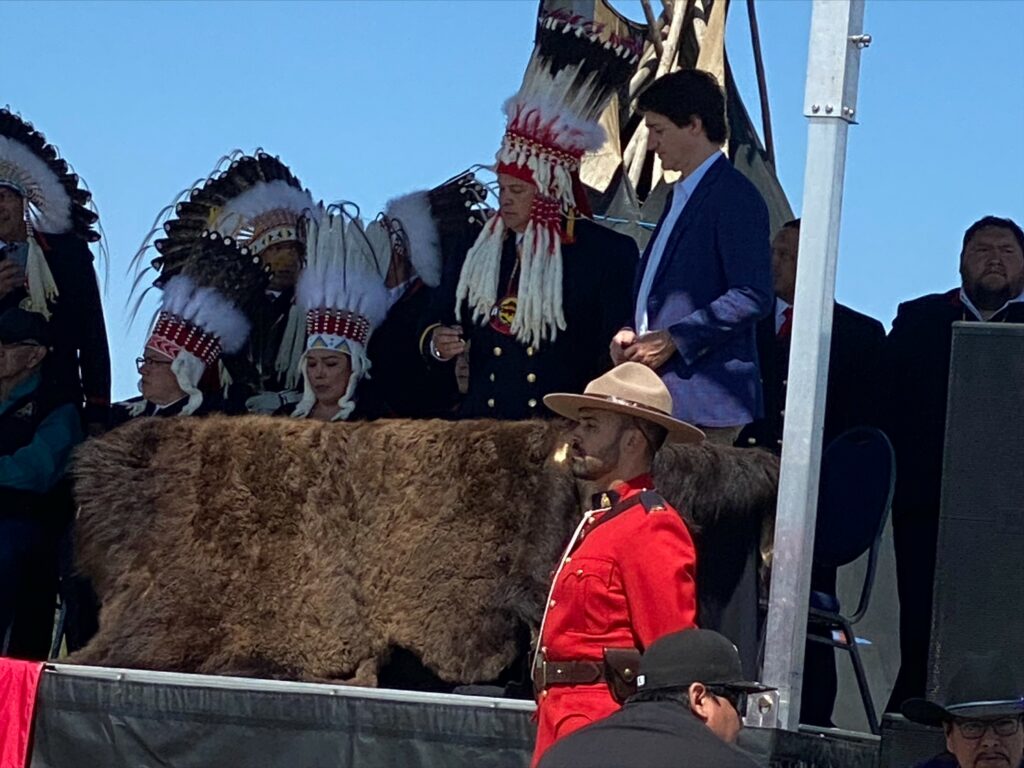 On June 2, 2022, the chief and council of the Siksika Nation, Prime Minister Justin Trudeau and Minister of Crown-Indigenous Relations Marc Miller took part in a ceremony to celebrate the settlement of several historical claims made by Siksika Nation against the Government of Canada and others regarding the loss of and damage to Siksika reserve lands. The ceremony took place at Blackfoot Treaty Flats on the Bow River, the location at which representatives of Canada, the Blackfoot, Sarcee (Tsuut'ina) and Stoney peoples signed the Blackfoot Treaty, also known as Treaty no. 7, in 1877.
Under the terms of the settlement agreement, in exchange for compensation of $1.3 billion, Siksika Nation agreed to release all parties from liability in relation to several historical claims, the most significant of which is a claim against Canada for breach of fiduciary duty and the Indian Act in relation to the 1910 surrender and sale to European settlers of about 115,000 acres of Siksika Nation reserve land.
This settlement represents the culmination of over 60 years of advocacy for justice by Siksika Nation. In his remarks at the June 2 ceremony, Chief Crowfoot recognized the hard work of the many people who made this achievement possible and emphasized the importance of the settlement for the future of Siksika Nation:
"Now that this case has been settled, the compensation from the settlement can assist Siksika to develop true financial sovereignty and provide more opportunities for our People. This case was filed in 1960 under Chief Clarence McHugh and many leaderships and technicians have worked tirelessly over several decades to see this day come to fruition. I want to take the time to share my gratitude for the leaders that came before us and other ancestors who help build the foundation we stand upon today."
Mandell Pinder congratulates Siksika Nation in this monumental achievement.
For more information: siksikanation.com